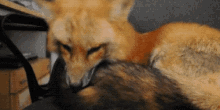 °˖✧ Kitsu ✧˖°
26 | She/They | ♋️

❤ HUSBAND ❤
Call me Kitsu.
A struggling freelance artist that has too many feelings. I love foxes.
★Other Places★
deviantArt | Twitter
|| All Rights Reserved ||
You may not trace, copy or redistribute my work in any form.
If you repost my artwork, I require it to be credited to either my deviantArt or toyhouse.
|| Only Authorized Users can Full View ||