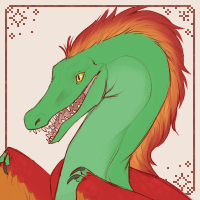 Profile
---
Seth
he/him . adult
heterosexual . 366cm . retired
"Quote"
[IMPORTANT] Art Notes
His feather-y bits are shimmery and iridiscent! His feathers are actually kind of pale and colorless on their own, and the rainbow of colors is actually just from the light reflecting off them. I just got real lazy with his ref. >.> One day I'll make a more accurate ref for him... one day.
I don't bite, I promise! I'm acually pretty chill about simplified details and stuff!
Maturity Settings
nsfw/nudity: Yes/No
blood/gore: Yes/No
About
Seth is one of my oldest OCs, created circa 2007. He had a lot more art, but it's a lot of traditional art and I don't have a decent scanner atm.
A mighty dragon with a mighty underwelming name. He's some sort of fishing dragon, inspired by Osprey and other fishing eagles (not in color, obviously). He's a pivotal character in a very old story of mine that I'm trying to revamp, but so far this boy is the only one with a decent ref.
He likes to act all brave and tough, but he's actually kind of a scardy cat! He'll puff up and squawk when he gets startled or frightened. Unless the situation gets really dire though, he usually doesn't back down.
HTML by Eggy