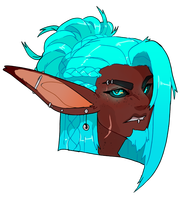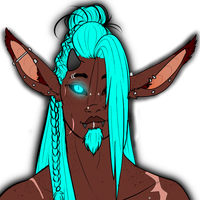 Profile
---
 "I don't need anybody. I'm better off alone." 
Ruin is a bounty hunter who used to be a blacksmith. He trained under his father, who had been aegis as well as a Smith, teaching Ruin combat and trade, in hopes that the young fiery boy would follow in his footsteps.Ruin fled Ichorrai after an accident set his family home ablaze. Somewhere along the way, he had an accident that he can't remember, causing him to lose his Fysa, and gain Longevity. He realized he was un-aging a few decades ago, dawning on him that he should be near death for the average human, and yet, he hasn't aged a day in the last 50 years.
Ruin had an interesting encounter that left him with a tuar body, and a new scar in the center of his chest. He knows he had a heart transplant, but beyond that he has no inkling of the artifact heart contained within his body. Twisted and shaken, the old human has decided to rejoin society, after one hundred years of isolation.
He tends to invade others personal space when he acts flirty and cocky, though he himself doesn't like being touched.
Positive
---
Loyal
Flirty
Charismatic
Neutral
---
Fearless
Stubborn
Determined
Negative
---
Reckless
Abrasive
Aggressive
Ruin is charismatic, bone headed, flirtatious and reckless. He's unafraid of anything, and doesn't think any job is too much for him. He prefers to work alone, but if paid well, he'll work as a team. He takes care of himself, and only himself. He doesn't like to talk about his past.
Profiecient with short swords, Archery, and daggers. He knows how to fight as a dual weilder, though his hand to hand is also good. He trains hard almost daily in his downtime, drinks a lot, swears a lot and smokes a lot, but wont touch any kind of drug.
Early Life
---
Much of Ruin's childhood is foggy, his parents were a throuple consisting of two Rrex and a Human, They were happy. One of his parents was a blacksmith, the other an Aegis. He was loved, and trained in smithing, as well as being a warrior. He had a human little sister, and a Rrex older brother, as well as twin half siblings.
Adolescence
---
Ruin was a spicy teen, getting into trouble, causing mischief with his childhood friend, and first love. The two of them would often wreak havoc, but never harmed anyone. Ruin doesn't remember much of this time, except fleetng moments spent with his boyfriend.
Adulthood
---
Something happened, They're all gone now. I killed them. I am a destroyer, and to the world I will bring Ruin. Why can't I join them? Death eludes me. I fight to feel again.
Present Day
---
Ruin has changed a lot in the last few months, especially with the world falling into unexpected chaos. His nature to be a longer has dimmed, and he now seeks to rejoin society. In the wake of destruction, Ruin struck out to help out after the Spire broke, wanting to do his part to keep people safe. After emerging from being trapped underground with his companion, Kota, he threw himself into things.
After recovering a small khieraa child from beneath Immethius, He went to Alba, his healer, in hopes of finding a way to rouse the child. Nothing worked, the only reaction they could uncover was absorption, when touched with an aria crystal. So, with Kota helping to gather more aria, Ruin kept feeding crystals to the child, hoping that something would happen, that they'd wake up.
No one was prepared for what happened next, when the child DID awaken! Though, with a voice that didn't seem to fit the form. Merely a vessel, they claimed to be a fragment of Aria herself, drawn by the crystals power. She could not stay long though, and for Ruins efforts, granted him a most special gift.. a song, a unique song only for him, that calms the madness of the artifact inside him, allowing him to resist its wrathful effects while it is sung. Ruin, feeling a sense of..a kindred spirit in this being, didn't argue, and became quite emotional at such a blessing, wondering what he could have done to deserve something like this.
Following the return of Jet, and her ascension to shepperd of Ichorrai, Ruin has decided to go to the new leader, and pledge his services to the strange and quiet rrex, finding something about her to be compelling. After a probationary period, to prove his resolve and commitment to the people, he shall take on the full rank of Aegis, as his father had dreamt of so long ago. Having only been an aegis for a short while over one hundred years ago, he welcomes the chance to show how he can serve once again. Reforging himself into someone to be proud of.
Friends/Acquaintances
---
---
---
---
Exes/Flings
---
---
---
Enemies/Rivals
---
---
---
---
<



 TRAIT: LONGEVITY 
---
The user has an extended lifespan, unable to die from natural causes (they can still die from injury). Some achieve this through artifacts, others through deals with deities. Most can achieve longevity by entirely and utterly sealing themselves off from their magic, as the stress of magic on the body is what causes aging. Wildling immanu are the first to have discovered this, though many don't believe them. Those who are most likely to succeed in obtaining longevity are those with Marrow Fysa (Awoken Aspect), those with Clear Fysa (Cleanse Aspect), and those with Blood Fysa (Loss Aspect).

Users experience one or some of the following drawbacks:
No Powers
Memory Loss due to being so long lived
Bound to rules if longevity was granted by a deity
Such as, being required to eat a certain substance, or being unallowed to ender dwellings
Perpetual bad luck
Really Depends on the individual!
This trait is free for those who would give up all other fysa and future fysa for their character.
Inventory
---
Item Title [ item explanation ]
---
item description text here
Item Title [ item explanation ]
---
item description text here
Item Title [ item explanation ]
---
item description text here
Trivia
---
info.
info.
info.
info.
info.
info.
template by shroomish