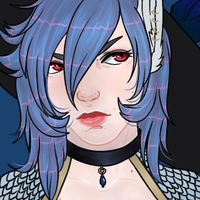 Profile
---
Emotion
Charming, Peaceful
Likes
Big fancy hats, especially with feathers

Shopping

Fruity Drinks

Collecting items/brouchers from travels

Traveling

Swords

Competitions

Spicy Foods
Dislikes
Cold Weather

Being lied to

Using her command ability on the people closest to her

Sleeping Outside

Paying full price for things

People who are too harsh with Hawkes

info

info
Skills/Hobbies
Fencing, Sword Fighting

Violin, Guitar, Keyboard, Singing

Vocal Mind Control, Extrasensory Perception, Psionics, Minor Light, Sonic Scream, Superhuman Dexterity, Mobility, and Reflexes,

info

info

info
Trivia
Using her voice Mallaidh is able to influence people and to a certain degree relality to bend to her will. She is also capable of this skill through music, but it takes a lot more concentration in order to achieve the same effects.

She typically uses her powers to bolster and buff her companions but she is capable of dishing out damage when she is backed into a corner.

She is not too keen on fighting but keeps a few knives hidden on her body just in case they are ever needed and is not shy to jump into the fray if there is not a chance of settling things peacefully.

Cras ornare tristique elit.

Vestibulum auctor dapibus neque.

Nunc dignissim risus id metus.

Cras ornare tristique elit.
Appearance
Personality
Optimistic . Affectionate . Opinionated . Kind
info
info
Story
The daughter of a Knight - one of the King's loyal body guards - and a minstrel, Mallaidh lived a life of luxury. She was taught music by her mother and how to fence by her father and received some of the best tutors around for maths and histories. Unfortunately, this would not last as one night the king and many of the knights - including her father, were killed and the castle taken over. She and her mother and several servants were kept alive to please and see to the knew king and his loyal knights - but her mother and the servants were biding their time, refusing to accept this new rule. When Mallaidh was 16 she witnessed her mother's murder by one of the knights and without thinking she grabbed the nearest and sharpest object she could find and plunged it into the heart of the man. Realizing what she had done and knowing she had very little time before the guards found out what she did and killed her she grabbed whatever she could get her hands on: Some of her mother's fine silks, her mother's violin, the wedding bands her mother had kept that belonged to her and her husband, and money that had been hidden away the night of the seige. With a final look back at her mother she fled through the window and out into the night. With the money she was able to buy herself immediate passage out of town and to the docks, then bought herself passage on whichever ship was leaving the earliest. Eventually finding herself in a new city she didn't know what to do, she had enough gold left to keep her set up in a room for a few nights but not understanding the true value of money she was easily taken advantage of early on. She ended up making a deal with the innkeeper that she could keep a room there and be fed and in return she would preform. Before ever agreeing to her terms the innkeeper gave her one chance to 'impress' them and much to their surprise she did. That night the innkeeper experienced their first full house in years. The tavern below was full and when told that the singer would also put on another show the next night the rooms were sold out as well. The wife of the inkeeper ensured that her husband kept his word and saw to it that the young girl was paid. It was in this inn that she eventually met a charming, and very shy hunter and was quickly taken with him. During the nights she preformed and during her free time, when he was in town, she would spend with the hunter and before long the two were inseperable.
info