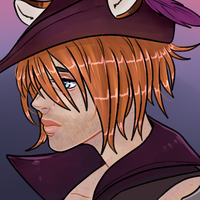 Profile
---
Occupation
Ranger/Tracker
Likes
The outdoors

Romance Stories/Movies

Sweets, especially hard candies

Swimming

The Ocean
Dislikes
Attention

Wasting resources

Closed, small spaces

Not feeling in control of himself/Being unable to perceive/observe his surroundings as effeciently (whether through substances or mind control)

info
Skills/Hobbies
Archery, Sniping, Throwing knives, Hunting, Tracking, Survival

Cooking, baking

info

info

Gifts from the Hag: Blink, Supernatural Luck and Accuracy, Danger Intuition, Minor Invisibility, Minor Self-Sustenance

Natural Gifts: Supernatural Speed, Dexterity, Flexibility, Reflexes, Senses, Enhanced Strength, Claw Retraction, Minor Shapeshifting
Trivia
He carries enough weapons on his person or in Mallaidh's pocket dimension to outfit a small army. He typically carries both a short and long bow and several types of arrows for each as well as his knives.

While he is not capable of much magic on his own he acquires an enchanted glove early on that allows him to channel light based magic into his arrows or create a shockwave at close range, later on he gets a tattoo imbued with light magic that allows him to do the same thing. He also eventually learns how to enchant runes which he utilizes by creating various types of ammunition and bombs to give off various effects.

Nunc dignissim risus id metus.

Cras ornare tristique elit.
Appearance
Personality
Attentive . Thoughtful . Playful . Generous
info
info
Story
Hawkes was the oldest son of a hunter and a baker. When he was nine he was sold to the hag that lived outside of town in the woods in exchange for a wish. The hag put Hawkes to work, at first insisting that he feed her or else she would eat him. Thanks to the lessons his father had given him about the woods, nature, and hunting this did not prove too difficult and as the years passed his skill only improved. Then the hag began having him run errands for her, little things that seemed a little batty...but innocent enough despite the uneasiness he felt in his gut. Things continued to spiral into more dark territory as the hag began coming up with other jobs, sending him out to hunt and kill people - telling him to bring them back their hearts when he finished. He drew the line finally when he found out that his latest prey was a child and he tried to scare her off. Unfortunately, the hag had branded him with her magic. When he refused to carry out her commands the brand sparked to life on his chest and burned deep into his heart. The pain was so intense that passed out and when he came to he found himself back at the hag's covered in blood and the hag with the child's heart. Horrified at what he had done and what the hag was capable of he decided he had to act. He bided his time, getting back into the hag's favor until one night while he was preparing her meal he requested that she turn the oven on for him as his hands were to wet with blood and he'd have a hard time. The hag, while suspicious in nature, belived that Hawkes' will had been broken and grudgingly crouched and lit the fire within the oven. Seeing his chance, Hawkes pushed her in, closed her inside, and jamme the door shut and then he fled out of the hut and into the night. The screams of the hag followed him as he ran and eventually that brand blazed to life once again, demanding that he return and release the hag, but he managed to keep running. He had no idea how long he had ran, spurned by adrenaline, fear, and the odd sense of relief that he was free. Finally his body gave out and he rested, waking up three days later in a forest with trees he couldn't remember seeing before. He started to travel, hunting when he needed to for food and collecting pelts, teeth, claws, leathers, and organs that he would sell to traders or in towns he came across. Eventually he settled down in the woods outside a city he knew he could make money from. He visited every other week but those visitations became more frequent after a chance encounter at the tavern where he saw a lovely woman who had, in his opinion, the voice of an angel. He returned more often and eventually worked up the courage to speak to her. They hit it off quickly and before he knew it they were practically inseperable.
info