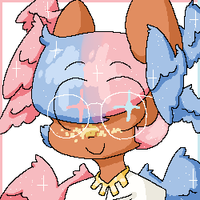 Profile
---
THE MAIDEN
Deity of the Jungle, Host of the Tangle
Locations
---
Citizenship
Maiden's Tangle
About...
A mysterious figure, said to be the originator of the Maiden's Tangle - the enormous jungle that dominates Moondown. Those destined to become permanent residents find themselves visited by him in a dreamlike trance. 
His identity, powers, and Flame are a complete mystery, as the Maiden has eluded study or capture since the conception of the Tangle. Some speculate his appearance and abilities - that of controlling the Tangle - may possibly be granted by the sun/moonshards that have scattered over it.
Notably, there is no record of his existence prior to the Tangle's growth, so it can be assumed that they are connected or related in some fashion.
Personality...
Though most records of the Maiden are inherently unreliable, many cite a strange allure to him and his words. A sharp smile eternally decorates his face, complimenting his murmurs of visitor's best-kept secrets. Though Tangle residents say he is pacifistic in nature, others who escape the jungle are more shaken.
---
Trivia...
: Presumed Immortal/Flamed but there are no records of his appearance.
: ???
: Presumably unemployed....
♬: -
Abilities...
Flame: ???
It is unknown if the Maiden has Flame.
---
Powers...
Many abilities are attributed to the Maiden, though primarily around inducing hallucinations, shapeshifting, dreamwalking, and time-warping. Those who visit the Tangle and are destined to stay are always visited by the Maiden in some way, typically through a dream.
The veracity of these claims cannot be confirmed.
---
Artifacts...
The jungle is referred to as being the Maiden's creation and an extension of his self.