Profile
---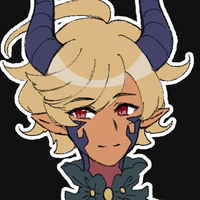 Kellerys
Personality
Kellerys is patient and nurturing, although often very cryptic. He is able to soothe even the most agitated of dragons, so not much can actually get a rise out of him.
He enjoys speaking in tongues with the sole goal of confusing people, and only speaks clearly to his children.
Background
Kellerys is an ancient dragon, born from the stars themselves, and likely one of the very first in existence. His exact age is unknown, but he claims to have seen the birth of life. Whether that references his children or the life of the universe is left unclear to all but himself.
He is the single progenitor of every single dragon present on Earth, and is the only one with the ability to create more of their kind. Because of that, he is often called the "Dragon of Origin".
Design Notes
Base colors
Outfit colors
Pointy ears.
Slit pupils.
Thick dark blue scales in various places.
Trivia
His true body is a massive group of stars, curled protectively around the Milky Way.
He typically walks around the land using his drake body, though he does have a few wyvern bodies flying about as well. For obvious reasons, nobody has ever seen his true form. It is simply too big.
Like all dragons, Kellerys is intersex.
credit
(Code heavily edited by me)