Profile
---
Vio Malkin
He/him or They/them
---
Silly | Positive | Friendly
"Little fang, little fang, little fang."
Vio is a small, kindhearted elf wizard who's main goal in life is to explore the wonders of the world around him and impress his family back at home. Every day is an adventure for him, always admiring his surroundings and always greeting strangers with a smile.
Aside from his constant upbeat attitude, he also is a bit strange and unpredictable. He loves nature and often can be seen snacking on leaves and other miscellaneous greens of nature. Even through his high intellect as a wizard, he still seems a bit dumb and reckless.
His adventures surround him and his ever-growing party, that in actuality, feels a lot more like a family to him. His adventure can be hard sometimes, but he's really just grateful to be there and enjoy the thrill of adventure with this group of people that he loves, trusts, and honestly admires.
Positive
---
Friendly, optimistic,
determined, eager,
quick on his feet
Neutral
---
Trusting, generous,
unpredictable,
passive
Negative
---
Oblivious, stubborn,
reckless, dumb, low
defense, vulnerable
Very friendly and outgoing, most likely to smile and greet a stranger. Usually comes to be too trusting, easily leaning on people when it may not always be appropriate. He acts relatively goofily, generally being unpredictable and silly, especially with the people he loves and trusts.
He is often very optimistic, trying to see the brighter side of any situation even if things look especially grim. This can often come to fault, and he doesn't generally tend to understand the true weight of bad situations until it really clicks that there doesn't seem to be any way out of it.
On the opposite spectrum of things, he can also be a bit threatening at times, maybe without necessarily meaning to. This doesn't come out often, but when it does it's truly out of Vio not necessarily understanding the weight of what he's saying.
At his core, he really is just a kid. Childish, friendly, overly trusting... His understanding of the world is far too underdeveloped for him to really understand the weight of his situations at times. At the same time, this oblivious nature can be good for him and benefit his situation, but at times it can put him in a rougher circumstance than he hopes to be in.
Eventual
---
Residence
N/A, travelling
Gender
Trans Male (He/They)
Early Life
---
Vio grew up in a small town with his family: Melo and Sona, his two moms, Noc, his younger sister (7), and Paro, his younger brother (15). Every day was kind of the same, doing very mundane day to day tasks with very ordinary jobs, such as shopkeeping and farming, and not really expanding at all. Vio, the young and adventurous child he was, hated this. He felt too cooped up, too restricted- he wanted to learn more about the world around him and become something bigger. When he was only 11-12 years old in the human equivilent, he started to train in stealth and the craft of magic and wizardry all on his own, going off of books that he had in town and training in the woods nearby. When he grew to be 14 years old is when he really set off in his journey.
Adolescence
---
After saying his goodbyes to his family and village, he had set off to travel in the woods nearby and beyond. He surived off berries and other herbs and greens he was able to forage, learning through some hard experience what he can and can't eat. Eventually he stumbled across another kid in the woods, who he had learned to be Rammi. The two stuck together and eventually got lured to home somewhat nearby, smelling decadently like apple pie. This house belongs to the Braeburn family, who couldn't help but take the two in adoptively. Hiro Braeburn would come to be Rammi and Vio's guardian throughout their travels. They would slowly stumble across more and more travellers with similar ambition that stuck around, growing into the party that is known today.
Now
---
Now, the group is constantly going on adventures together, going through their fair share of hardship and struggles but generally always coming out together with a smile.
Proficient in...
---
Keen Senses
Perception bonus
Mask of the Wild
Hide in any weather
MAGIC: Element
---
i dont feel like filling this page out i will later
SKILL: Title
---
Skill information here.
SKILL: Title
---
Skill information here.
SKILL: Title
---
Skill information here.
Fire & Ice Gloves [ +2 elemental damage ]
---
Gloves given by Leonor. These are able to add +2 points of fire or ice damage to an attack.
Communication Bracelets [ Telepathic Communication ]
---
Bracelets that allow the wearer to telepatically communicate with other wearers of the bracelet. The two other holders are Hiro and Rammi.
Cloak of Cold [ +1d4 cold damage ]
---
A cloak of fur imbued with magical ice spikes.
Arm wrap [ +1 AC ]
---
Thick bandaging covering Vio's hands and arms.
Wooden Melodica [ Vicious Mockery 1/D ]
---
A wooden melodica enchanted with the spell 'vicious mockery' on any creature. Creature must succeed a wisdom saving throw or take 1d4 psychic damage.
Moon Shoes [ 30ft levitation ]
---
Allows the user to fly 30ft off the ground.
"Rammi!! He is the coolest dude in the world and the besterest brother you'll ever know. Me and him are super close! I know we're not like, technically brothers? But he really feels like one to me."
---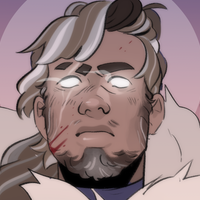 "HEEBY! He's awesome, he can be a lil silly sometimes but he really is one of the nicest kindest people I know. I'm real glad that he took me n' Rammi in! He's super important to me and like the dad I've never had!"
---
"Andy is soooo cool. I haven't known him as long as Hiro but he also feels just like a dad to me!! And thats not even just 'cuz him and Hiro are all kissy with each other. "
---
"Samori's real cool!!! She hasn't been around much lately but I miss her an awful lot. Kinda like Andy I haven't known her as long but that doesn't mean I don't trust her!!"
---
"Horus is real cool, he's got a really scary family though... Even still though I think he's a pretty awesome guy!"
---
"Parin's awesome! He's always doing these crazy things- he's really funny! I'd like to get to know him better, he's a real fun person to have around!"
---
"Trust is super funny! He always knows how to pull off these crazy stunts- he made me fly once! I think Hiro thinks he's a bad influence for me but I dunno, I'm having fun!"
---
"Moss and I well... I wanna trust him! I have a lil bit of a hard time since we've kinda been through a lot but... I really like the guy y'know? He's real fun and funny!"
---
"Bonnie's super awesome! I dunno, I like her energy. She's a lotta fun to be around. I'm not awful close with her though, but I really like to hope that'll change!"
Favorite
---
Food
Leaves (The crunchy kind)
Trivia
---
He was created in 2017.
Vio's name is short for 'violin', and his whole family's names are musical themed.
He initially started as a semi-self insert and slowly developed into more.
His voice claim is 'jokingly' Spongebob. (...or is it?)
His natural facial expression is a cat mouth (:3).
In the modern AU, his favorite game is Minecraft.
Design Notes
---
His wizard hat is bent forwards/inwards and has a small moon charm strapped to it.
His cloak can either be closed, covering his body completely or be open and present more like a cape.
The handwraps on his hands are optional!
He can be drawn in any outfit you see in his gallery. Please don't give him new outfits unless you're a part of our campaign or it's for one of his AU variants, especially the modern AU.
You can draw any of the AU variants! His main D&D appearance is preferred, however.
Physical Appearance
---
Attributes
---
Style
Casual adventurers gear
Presentation
Masculine/GNC
Vio is a short, small wizard boy with extremely pale skin and light platinum blonde hair. His hair is semi-short, with his bangs flipped to the right and two longer strands coming down in front of his ears. His hair is extremely fluffy in the back. He wears a tall, dark muted green hat that is bent forward with a moon charm strapped to it, and a similarly colored cloak that drapes over a light green long sleeved shirt with bright yellow accents. He wears light gray jeans with a travel pouch strapped to his belt and thigh, and green knee-high boots with bright yellow accents.
---
template by shroomish