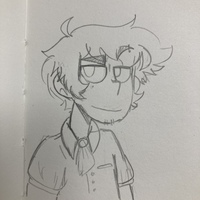 Profile
---
NAME: Bleu
AGE: in his twenties
SPECIES: same as whatever Berri is
BIRTHDAY: April 28
PRONOUNS: He/him
SEXUALITY: Gay
HEIGHT: 5'9"
PERSONALITY: Somewhere in between cocky and confident, and a real go getter. He is great with people but not so great in the thinky thinky department. In other words, he is kind of a dingus. But only when it comes to books and things. He has common sense, just doesn't care enough to learn things like "math" or "science" or "the alphabet".
ADDITIONAL NOTES: King of... some other kingdom next to Sketchlandia that I never named. I dunno. Berri's adopted brother.