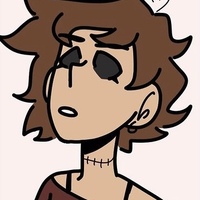 Profile
---
NAME: Shelby Peters
AGE: Technically in her 30s but her body is 19 because thats how old she was when she died
SPECIES: Zombie
BIRTHDAY: October 30th
PRONOUNS: She/her
SEXUALITY: Asexual
HEIGHT: 5'10"
PERSONALITY: Disconnected and aloof, though it is unknown if this is a result of her becoming a zombie or if she was like this before she died. She is however very sweet and caring, just has trouble expressing her emotions because once again she is technically dead.
ADDITIONAL NOTES: best friend and roommate of Pomeus. Previously dated Iggy before he realized he was gay.