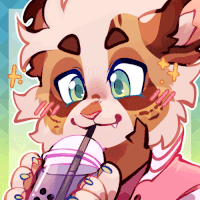 Profile
---
---
---
Supalonely
dreamer
broken heart
relaxed
soda pop
my beloved
---
Likes
---
The company
Plants
Milk Shakes
Hot chocolate
Chicken(?
Disikes
---
Fell in love?
Loud noises
Touch their ears
Bitter flavors
---
He loves to learn new things, but his passion is the food.
Is introverted with strangers, with friends; he likes to listen to them talk, he is not good at talking a lot.
He is a very calm boy, he takes problems calmly.
---
His only family is his "brother" Alex, an energetic red panda. They are the perfect duo.
He tries to forget a toxic relationship, feels damaged and insecure
When he gets someone to trust he becomes a very loyal friend, and does not like to admit it but he love hugs <3.