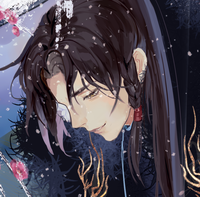 Profile
---
A former disciple of Lin Xueliang. Vigilant in his work and reaching success at a young age, he soon became the God of War. Yet, what was supposed to be his moment of triumph doesn't leave him with a sense of accomplishment. A young man who displays himself with a nonchalant attitude. He has a carefree and mischevious personality and seems to embody a strong sense of justice. A perception created by the eyes of the public. Perhaps in the midst of the night, you may see a smile unbefitting of a hero. A life molded by the ideologies of others.
Info
Stats
Relationships
Lin Xueliang
A former teacher of Qiu Yuefeng. Unknowingly, their fates become entangled with each others.
Xu Weiyi
An arrogant kid who travels with Lin Xueliang. Qiu Yuefeng loves to tease the child and thinks of him as a little brother.
Trivia
He enjoys creating holy weapons.

His birthday is on September 8.

His name is a play on the characters 秋, 月, and 凤.

He winks, not knowing that others can not tell he is winking.
Misc