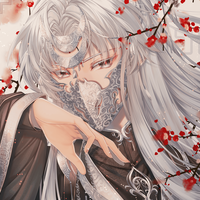 Profile
---
The former god of the sky who disappeared from the heavens 500 years ago. He now resides in a small shrine within the mortal realms and guards the barrier to Diyu. A man who is quick to anger, yet keeps a stoic expression.
He wields a lantern which collects the shattered fragments of lingering souls. On the 7th day after one's departure with life, their soul will return to the mortal realm. Ye Ming guides those souls to the rivers of Diyu to allow them to re-enter the cycles of reincarnation.
Info
Stats
Relationships
Zi Xin
An arrogant snake who attempted to kidnap Ye Ming. Ye Ming seems to have a distaste for his carefree attitude.
Trivia
He enjoys chewing on sugarcane in the Summer.

His birthday is on January 13.

He hides erotic novels in his sleeves.

He has a habit of wacking Zi Xin with his lantern.
Misc