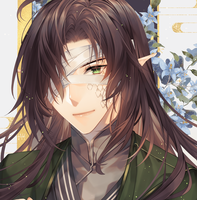 Profile
---
Arrogant by nature, yet lacking in self-confidence. The stories of this rain deity is quite different in each passing town. The reality is that Zi Xin unconsciously fabricated memories for himself. He loves to lie, yet does it unknowingly. That compulsion eats away at him as he forgets his self.
Info
Alignment
Chaotic Neutral
Stats
Relationships
Ye Ming
A crane with a calm and stoic expression. It seems that he has a hard time conveying his emotions.
Trivia
He enjoys the sound of cicadas in the evening.

His birthday is on October 28.

His snake's name is Nian Gao

He has a habit stealing Ye Ming's shoes to appear taller.
Misc