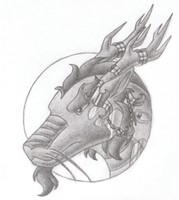 Basic Info
---
Profession

Solo Coliseum fighter
Profile
---
Personality
Decisive, hardworking, serious, strong, stern, single-minded, aggressive.
Appearance
Flight: Water
Primary: Cerulean Metallic
Secondary: Steel Alloy
Tertiary: Cerulean Opal
Eye Type: Water Multi-Gaze
Length 31,79 m
Wingspan 15,63 m
Weight 9436,93 kg
Life
Wricor was the first ever natural-born Multi-gaze dragon of the Seafoam clan. His peculiar eyes caused some amazement in his clan mates, but when he started to age he soon showed that his hoard of eyes was one of the least extraordinary things about him. The thing is he grew to be extremely large and just as strong, both physically and magically. As a teen he was already the longest dragon in the whole clan and also the most skilled in combat (at least among those who display their capabilities openly), which together with his grumpy nature caused many to become somewhat wary of him. It didn't matter to Wricor though: he had always known what he wanted in life - to fight, battle and brawl - and he was more than happy to do it alone. That's why he ended up following his mother's footsteps and became a Coliseum fighter. Though unlike other skilled coliseum veterans of the Clan he isn't part of a team of three, but instead faces even the most fearsome enemies alone and still usually comes out as a winner.
Tidbits
Birthday is in 17.5.
Wricor's wings aren't nearly as huge as his body otherwise is. He can fly with them, but he isn't good at it and it requires a lot of energy from him.
About the character
Created in 2020.
Original character info can be found here.