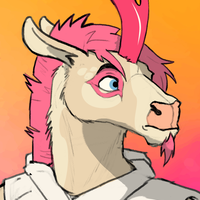 Basic Info
---
Name/Nickname

"Berm/y", Barry,

Species

Unicorn, American cream draft horse

Body type

As ref, Strong build but not necessarily very defined muscles

Sexuality

Heteroromantic, Bisexual?
Profile
---
"Wait, so is his last name triangle?? "Maybe it is.. horses have weird names."

Amiable
Apathetic
Casual
Cerebral
Complex
Decisive
Forceful
Independent
Intelligent
Mature

Roommate with Jumanji. A one floor, very worn apartment, one bathroom, two bedrooms, small living room/kitchen, scarcely furnished.

Intelligent, precise, unhandy, acts intimidating, lacks self-confidence, quick temper, defensive, music-lover, seems ambitionless, selfless, junkie.
Was mocked in his childhood for having pink fur and being a unicorn. Horn is jagged due to attempts of cutting it off and it growing back in odd angles when he was younger, he was ashamed of it for a while but now likes it better this way, few know this is the reason why it looks odd.
Acts intimidating and strong/masculine as a defense mechanism, and wanting to prove the bullies wrong, even though he naturally isn't very masc. He wishes he was more masculine as to not fit in with their stereotypical views.
Has a degree in (a subject i don't know yet what is) and is very intelligent, likes to learn. Does not flaunt it. Keeps it hidden from most of his uneducated friends as a way to bond with them, not realizing that they would admire him for it.

Can't keep his mouth shut when watching documentaries with others.

Eventually opens up to Cisum about his past education and struggles, and his future ambitions.

Might want to become a teacher.

Eventually meets Jolie and falls in love.