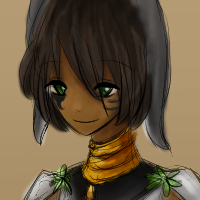 Profile
---
Bunnariums are a closed species created by WENZ!
Approval Form/Traits:
MYO Ticket Number: 14

Designer: Feathers95
MYO Slot Type: Anniversary MYO Event!
Additional traits needed and link to inventory displaying traits: None

Ear Types: Bunny Ears (Common)
Body Adornments: Unadorned (Common)
Skin Tones: Human (Common)
Body Markings: Single-Coloured (Common)
Tail Types: Flower (Common)

Number of Ariums: 1 (Common)
Arium Type(s): Mid-Section (Common)
Types of Arium on body: Terrarium (Common)

Image Links: https://i.ibb.co/Cwf3Y9D/Raseri-nobg.png
Notes to be written up one day:
Was picked up by Ning Yuqi as a young child after being lost by his parents during a bandit scuffle. She raised him as his adoptive mother for many years, before he managed to trace his roots back to Winter. Still thinks of her as his mother though.
Biological son of a pair of nomadic merchant-turned bandits, with roots in Winter.
Has a fondness for Autumn and its cool misty weather, general aesthetic and the fact that Ning Yuqi resides there.
Is young, probably around 16 years of age.
Optimistic, carefree, naive, adventurous, fearless
Aims to be a bit of a cartographer, mapping all the places he's ventured.