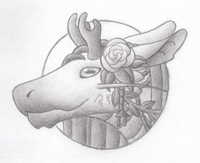 Basic Info
---
Profession

Naemi's courier
Profile
---
Personality
Playful, charismatic, perceptive, lazy, selfish, sly, devious.
Appearance
Flight: Ice
Primary: Robin Fade (Veilspun)
Secondary: Caribbean Constellation (Veilspun)
Tertiary: Cerulean Runes (Veilspun)
Eye Type: Ice Goat
Length: 0,65 m
Wingspan: 0,62 m
Weight: 2,38 kg
Life
Not much is known of the lives of Doom and Oblivion before they came to the Seafoam Clan aside from them being acquaintances of Naemi. When Naemi settled into living with the clan for an undetermined amount of time, she soon invited the two Veilspuns to work for her. They are her eyes and hands that see and reach to the outside world, fetching and delivering her messages and goods as well as gathering information from the general state of Sornieth. While Doom mostly works close to the clan, Oblivion travels all across Sornieth and often spends several weeks on his trips to the fartherst corners of the world. Whenever he is around he is a rather pleasant fellow, if not somewhat sneaky and untrustworthy. He likes telling tales, discussing about rumors and generally joking around and whenever he and Nightblade start trying to one up each other with their wild stories, it is truly a sight to behold. Oblivion is easy to get along with, but the only one who is truly close to his heart is his beloved mate Doom.
Tidbits
About the character
Created in 2021.
Oblivion was already named when I bought him.
He was also the first ever Robin/Caribbean/Cerulean Veilspun on the site.
He was the winner in The Pelican Post's Best Veilspun competition 21.2.2022.

Original character info can be found here.