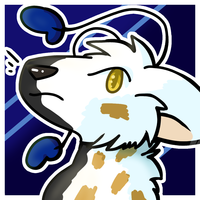 Profile
---
Design by MidonLynxAdopts
---
Mercy
Everytime the Thunderbird showed its face, the inhabitants of the forest cowered in fear, for it was unknown whether the creature had earned its name from the praise of its friends or from the cries of his enemies.
Species: Unknown
Age: Unknown
Male (he/him)
---
No one knows what Mercy is nor where he comes from, not even him. All that is known about his is that he one day was shot out of the sky by lightning, which granted him the nickname of "Thunderbird". His crashlanding caused him amnesia. All that he was able to recover was that his nickname was "Mercy" and that he was travelling to the ends of the world for an important mission.
Mercy made some friends who were willing to accompany him there among the animals of the local forest. There, the small group hopes to discover who Mercy really is.