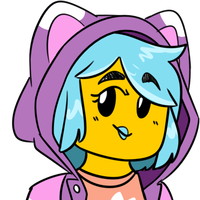 Profile
---
ART FIGHT NUMBER: 1505098

Name: Yu Lai
Age: 19
Gender: Female
Race: Human
NATURE
Mannerisms: Fiddles with her jacket, leg bouncing when nervous. Can't sit still for long.
Likes: Memez, Cartoons, Winning
Dislikes: Trolls, Forgetting stuff, Heights
Positive Traits: Imaginative, Confidant, Quirky
Negative Traits: Airheaded, Impatient, Childish
Hobbies: Gaming, Blogging, Cosplay
Alignment: Neutral Good
Personality Type
They're overly bubbly personality can literally brighten up a room if their outfit doesn't already.

Towards strangers she's welcoming more or less. So long as they don't act like a creep, she's chill.

Friends will find themselves the center of her attention and support.

Any enemies will have their hands full trying to pry her off. Though she may not have the strength of a Wukong, she's definitely got the boldness of one.
SOCIAL
Occupation: Gamer, blogger, cosplayer
Favorite Color: Anything neon or pastel
Favorite Food: Sweet and Sour Pork with Fried noodles
Favorite Possession: Her collection of merch
Favorite Weapon: Tazer
Favorite Animal: Lizards
HISTORY
Education: School graduate
Background:
She lives in Megapolis, where she lives in an apartment with her sister. She freelances at home through her personal hobbies. Including video-editing, drawing, and fitting cosplays for her customers. When she's not working, she's either often in the city looking for the next big thing to post about on her blog, or visiting convention halls. Where she often cosplays as her favorite character's while also attending gaming competitions.

Her username online is 'Jellygator'

She met Fang and Jun online and although she's never met them in person, or know their full backstories, she still cherishes them as good friends of hers.
FAMILY
Mom: Unknown
Dad: Unknown
Siblings: A twin sister?
Relationships: None
Pets: A bearded dragon named Chex
FRIENDS
EXTRA NOTES
Sister's username online is 'Peafowlet'