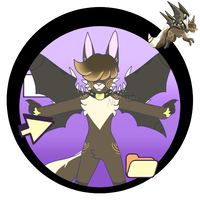 Profile
---
Species
[Hybrid Wolf + Bat]
Birthday
[July 19th, Cancer-Leo Cusp]
Design Notes: Collar never optional.
---
Likes: 
---
Dislikes: 
---
"I'm... amazed you feel that way."
The collar allows access to his "demon form". In actuality, he hates his normal self. Flying makes him happier than he could ever express. He has issues talking to others and often stutters. Doesn't want to be an awkward lone wolf, but he is. He hates the pressure of society and life. 
Without his collar, he's a giant crybaby who crumbles under pressure. His collar gifts him stability and happiness; hope to move forward. 
Anhks are a stability item to him. He'd wear an Anhk necklace were it not for the fact that layering with his collar is very uncomfortable.