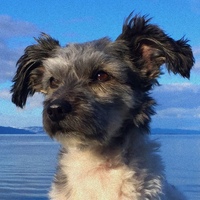 Basic Info
---
Breed

Chinese crested powder puff

Date of birth

September 20th 2015
Profile
---
Tobbie is not an original character, but my dog. his page is a place for me to gather all the art made of him.
Tobbie is an almost six years old Chinese crested ppowder puff, that I've had since Christmas 2015. My mom got him for my sister and I as a Christmas present, and he's been with us through thick and thin ever since. Tobbie is an amazing dog, and a great companion. His breed is very willing to learn, so he knows a lot of tricks, like speak and sit pretty. He's also the one of my current pets that I've had the longest. 
Jonkingly, Tobbie is frequently said to be a cat rather than a dog. That's because he normally don't behave like the stereotypical dog would. He does not like water, doesn't play fetch, he's very calm and is pretty introverted. He prefers quiet cuddles over exciting play. He also has this grin he shows whenever he's excited, where he lifts his upper lips up so his teeth are exposed. (It's nothing aggressively, it's just something some dogs do when they get excited.) He also often walk around with his favorite toy in his mouth: his bunny. That bunny has been with him his whole life. He came with it when we picked him up from the breeders' house.