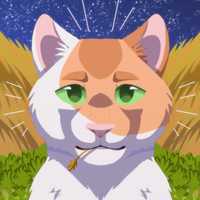 Created

1 year, 11 months ago

Favorites
Profile
---
Celeryseed
Name
Celeryseed
Celery (Kittypet)
Celerystar (Leader)
Gender
DMAB Genderfluid (he/she/they)
Adoption
Appearance
Apricot classic tabby, mid white (50-60%), with pale green eyes. Stocky with short plush fur.
--|XOY|d|DmDm|a|mc|sp|bm|ti|i|Wbwb|E-|Ccs|wsws|Ll
The seedling growing from the shattered stone.
Background
Celery had a standard kittypet upbringing with his littermates and a rotating cast of foster siblings. The last of her litter to be adopted, Celery found herself released outside of an old barn, but the appearance of the terrifying ghost that had haunted her dreams caused her to run away. Chosen by StarClan to rebuild Stoneclan, Celery does not quite understand why he has been put in this position, but he is determined to create a good, just life for himself and his new friends.
Relationships
Charlie took Celery under her wing and taught him how to take care of himself in the wild. 
Cherviltail and Celeryseed grew close when Celery and Charlie accompanied a pregnant rogue to Cherviltail's mother's barn. Even as older cats, they depend on each other unconditionally.
Gravel: While initially intimidated by the spunky rogue, Celery is fond of Gravel and respects her positive attitude.
Flickerflame, Gravel's estranged kittypet sister, came into Celeryseed's life almost by accident. When Celeryseed was approached by Cherviltail to be the surrogate for her and her new mate's planned litter, the young leader found herself falling for the charming former kittypet and their shared kits. Now, the three cats happily co-parent their children together, dividing the parenting duties among themselves. Sometimes Celeryseed feels as if being the leader of a clan precludes the time for devoting one's self fully to a mate, but something about her relationship with Flickerflame and Cherviltail feels so easy.
Thrushfur, the valley's resident midwife, is held in extremely high regard by Celeryseed. After their first chaotic meeting when Celeryseed, Gravel, and Charlie escorted a laboring Delilah to Thrushfur's barn to give birth, StoneClan's leader understands the old loner's vital role in their society.
Steadystar is the ghost of StoneClan's previous leader who simultaneously marked Cereryseed as the destined leader of a new StoneClan and haunts her waking dreams. It is unknown why Steadystar chose a cat he clearly feels so much contempt for, perhaps even to himself. Nevertheless, fate has a way of moving things, and Celeryseed will become a great leader one way or another.
Wandering Paws, unbeknownst to Celeryseed, was Steadystar's previous "chosen leader." Against his every instinct, the guarded loner is drawn back to StoneClan once again in his determination to protect the young cat from a fate he himself could not avoid.
Trivia
Celery is genderfluid and feels like a tom or a she-cat from day to day. When writing about Celery, his pronouns can alternate between sentences or paragraphs.
Celery is a purebred American Shorthair, but her coat is non-standard.
Links