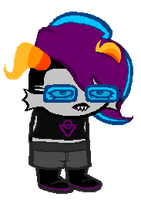 Profile
---
???
Basic info
BLOOD CASTE

Violet§Magenta (#6B006B) 

AGE
20 years
TROLL TAG

blackoutTestimony [BT]

SIGIL
Salt water (pending)
ABILITY
???
OCCUPATION
Aspiring actor, who hasn't had any luck. Initially she never wanted to be an actor, with her lusus trying to encourage her and saying she would be great at it. Sweeps later, after developing her style around the less classy side of things, building a brand that's practically allergic to film lots out of spite, she now finds herself wanting to break into film. She has a huge ego about her skills as an actor, but she can never land a role. She's had to do some remote office jobs to get by, despite practicing and truly trying to be the best actor she can be every day.

Her head is too big to ever admit that she's upset about losing an audition or her long long streak of failed parts, and vents it all out at helpless retail workers. Would treat her friends like dirt to get a role, if she had any.
STRIFE SPECIBUS
Scriptkind
Uses prewritten scripts and acts out scenes that give her i-frames, then uses good old fashioned close-quarters-combat as surprise attacks.

FETCH MODUS
Memory
It was the first one she got as a kid, and figured it would be really tacky if she never replaced it. So she didn't. Now that she wants to actually look respectable to her peers, and with her memory losing its edge over the years, she can't seem to find an affordable one.
HIVE
???
LUSUS
Starfish
INTERESTS
Chief among her interests are watching movies and then reviewbombing them if she recognizes anyone she's come into contact with during a failed audition.
QUIRK
BT: [ surrounds all of her messages in brackets.
BT: uses lots of periods.
BT: and wont use a closing bracket until shes finished her thought. ]
CLASSPECT
MAGE of HEART
---
PERSONALITY
???
---
---