Profile
---
---
---
---
Occupation
Fashion Marketing
---
---
Selene's Reluctant Disciple
---
Lily is the main character of Blue Moon and a sweet young businesswoman who works for a clothing company in Norview. Fittingly, she adores fashion and is often a step ahead of others when it comes to adopting the newest trends. She would love to run a fashion blog in her spare time...if she had spare time, that is. Unfortunately, a demanding job and her newly-awakened, freakish superpowers eat up most of her time these days. She's generally friendly and upbeat, and while she comes across as airheaded, that couldn't be further from the truth; she has extraordinary skill with numbers and an MBA to prove it.
Lily's greatest flaw and hindrance in life is her obsession with others' opinions of her. She believes that her intrinsic value as a person is tied to her reputation and image. This can cause her to give up on opportunities or activities that interest her because she fears disapproval, be it from her peers or her parents. She hates to "rock the boat" and will mask feelings of disagreement in favour of keeping the peace; this has unfortunately led her to stick with many an awful partner that doesn't treat her right. She's become an expert at pretending to like people she hates, and tends to behave passive-aggressively when angry.
Lily's Talent is called Eye of the Night. A grotesque third eye grows in the middle of her forehead, granting her clairvoyant abilities. Its strength depends on the phase and visibility of the moon. In battles against the Nightmares, she wields a halberd.
Traits
Outgoing
Intelligent
Petty
Conformist
Sweet
Likes
K-pop
Horror movies
Gossip
Skincare
Making lists
Her favourite food is garlic bread.
She's still in touch with her favourite professor from her MBA, who was completely unapologetic about her aptitude for mathematics and finance. Lily wants to assert herself as well as her professor did someday and prove her business sense to the world.
She loves to go clubbing even though she's a terrible dancer. Hey, the point is to let loose!
She has a little brother who went in a totally different direction in life and is studying Fine Arts. She fawns over his paintings on Insta.
She used to struggle a lot with her body image and agonize that she isn't petite — but now she loves her curves and tends to wear body-con outfits that show off her big hips.
META: This little lady is my oldest human OC. (I have to say human, because before her I liked to write stories about talking squirrels.) I made her up when I was 6 and she was the subject of much of my childhood creativity. While she's changed in some ways, many things about her, like her bubbliness and love of fashion, have remained the same and always will. <3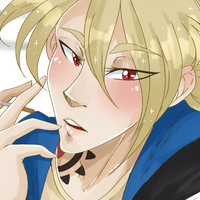 Lily has to secretly keep an eye (or three) on Cliff to ensure that he doesn't either figure out he has powers, or worse, get killed and pass them on to his half-brother. She finds him pretty abhorrent because of his standoffish attitude and criminal past. What begins as a relationship of obligation, however, begins to change as she realizes that Cliff is a more complex person than she'd thought.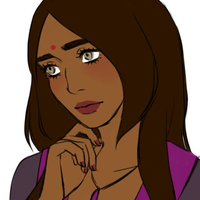 Though they met under less-than-ideal circumstances, considering the Nightmares and all, Lily and Niketa get along incredibly well. As both of them are women in business and technology, respectively, they respect and support each other's career ambitions. That, and they love having "girl time" to sip at whatever fancy wine Niketa picks from her fridge and gossip the night away!