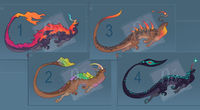 Dracotter adopt batch 4/4
Created

1 month, 12 days ago

Creator

Favorites
Profile
---
DESIGN 1
Flat price $75
DESIGN 2
Flat price $70
DESIGN 3
Flat price $60
DESIGN 4
Flat price $60

Payment through Paypal invoice
+ A Toyhouse account is not needed to buy a design from me. 
+ Here's my ToS
+ To claim, please DM me here or email me at [email protected] with the following information:
   - Name of this batch and number of the adopt you want to claim;
   - Paypal email where you want to receive the invoice;
   - Through which of the following platforms do you want for me to make the files available to you after payment: Google Drive folder or ownership transfer on Toyhouse.
+ Payment must be done in the next 24hrs after I send the invoice.
+ After payment, buyer gets high-res JPG and the transparent PNG of the design's art.
-
IMPORTANT: I'm not new when it comes to selling adopts –you can see that on my Gumroad– but I am kinda new at using this platform, so please be patient if I overlook something while I learn my way through the whole process.