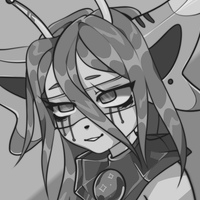 Profile
---
Type: former-human, otherkin, supernatural
Temperam${%&`+'${`%&NO CARRIER
A quiet being. It felt disconnected from others, with no real friends to speak of, but cared strongly about the city and the people in it.
One clear, starry night, it made a contract with Kyubey, and disappeared from the planet.
Its body was transported into a geostationary orbit, and its soul and consciousness became bound to the oneirosphere of Astro City; it effectively became a satellite, drifting through people's dreams.
For other magical girls specifically, it siphons their despair, which takes the form of Nightmares. It then jettisons this despair as grief cubes which Kyubey consumes.
It is not all-powerful, however, and has to rest between siphoning sessions.
Amongst Astro City's magical girls, there's a rumor going around of a starlit girl who appears through the cacophony of a nightmare, silently turning it into a pleasant dream.
It smiles at those it appears to, just before they wake up.
(Despite the name, no relation to Homura.)