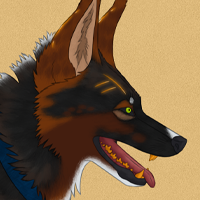 Basic Info
---
Pronounced

Fyoo-re Scorr-cher

IRL Nicknames

Max, Fury, Fox, Cactus, Plant, Lobster, Moth

Species

Dyre (rufus) / Movyh

Anatomy

Feral | German shepherd dog, Eastern coyote, and North American red fox.
Profile
---
As I don't post photos of myself, I represent myself online as Fury the dyre. He's what you'd call a fursona or canine version of myself. Therefore, Fury is me. Well, as me as a fursona can be since obviously I could never be him IRL.
He has differences and several "what ifs" based on Cadavard. He doubles as a cameo in my comic, showing only for a brief moment.

View refs here.
Genetics: Partial melanism with shaded sable, pale undersides, rust back, white spotting, and T mark. Blue & orange heterochromic eyes, 5 points mane, semi-rough fur.
Other info: Left knee brace and necklace both made of advenium. (Design directly based on my own knee brace.)

First appearance: Not yet. | Last: N/A
Status: Alive
Age: Adult / Unknown years
Born: 14 April
Interested in: Any sapiens | Bi-gay


Family ties


Mother: Unknown
Father: Unknown
Siblings: Unknown
Love: None
Offspring: None

District: None / Wanderer
Role: N/A


About
To be revealed.