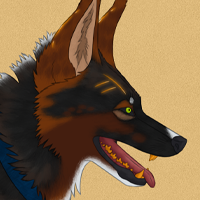 Basic Info
---
Pronounced

Fyoo-re Scorr-cher

IRL Nicknames

Max, Fury, Fox, Cactus, Plant, Lobster, Moth

Sex/Gender

Male | He, thon

Species

Dyre (Rufus subspecies)

Anatomy

Feral | German shepherd dog, coyote, and red fox.

Interested in

Any sapiens. | Bi-gay
Profile
---
View refs here. | Species swap.
Genetics: Partial melanism with red sable, white spotting, roman nose, blue & orange heterochromic eyes, 5 points mane, semi-rough fur. | Other info: Has a necklace, golden teeth, cyberwares, biowares, and a knee brace.

About
As I don't post photos of myself, I represent myself online as Fury the dyre. He's what you'd call a fursona or canine version of myself. Therefore, Fury is me. (Well, as me as a fursona can be since I'm not a dyre IRL.) He has differences and several "what ifs" based on Cadavard. He doubles as a cameo in my comic, showing only for a brief moment. If you want to know about me more, go here.