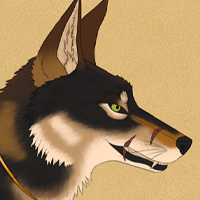 Basic Info
---
Pronounced

Sin-teh-rah Ah-merr-fix

Anatomy

Feral | Plains coyote.
Profile
---
Coat based on this partially melanistic coyote, also known as black & tan.

View refs here.
Genetics: Partial melanism, whitemark, raised fur between shoulders with a down arrow marking, V marks, lime-green eyes, rough spiky fur.
Other info: Arm brace and necklace made of advenium, cyber eyes, internal biowares.

First appearance: 01 | Last: N/A
Status: Alive
Age: Adult / Unknown years
Born: 17 March
Interested in: Vledax, dyre | Panromantic heterosexual

Family ties
Mother: Karim Amerfix
Father: Serwool Fixatii
Siblings: Noctis, Deimos, Gizmo, Oso, Severide, Hyksos
Love: Eyrie Wildfire (current), Norrath Matve (former)
Offspring (biological): Dyson, Diesel, Diego, Rohan, Karbon, Cyllis, Coco, Renin, Terraulfr, Modrekr, Tarren
Offspring (adopted): Lutari, Filion, Namur, Velsen, Ulix

District: Unknown
Role: Unknown


About
To be revealed.