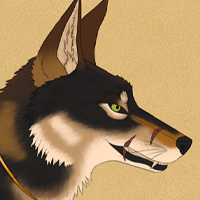 Basic Info
---
Pronounced

Sin-teh-rah Ah-merr-fix

Sex/Gender

Male (Female added)/Bigender | He, she, thon

Species

Dyre (Rufus subspecies)

Anatomy

Feral | Plains coyote.

Age

Adult, 12 annums | 17 Volcanis 3552

Interested in

Any sapiens | Pansexual
Profile
---
View refs here.
Genetics: Partial melanism, white spotting, raised fur between shoulders with a down arrow marking, V marks, lime-green eyes, rough spiky fur. (Coat based on this partially melanistic coyote, also known as black & tan.)
Other info: Arm brace made of advenium, cyber eyes, internal biowares, female sex custom add for identity.

About
Is in union with Eyrie, Terraulfr, Kurama, Willow, and Tick.

To be revealed.