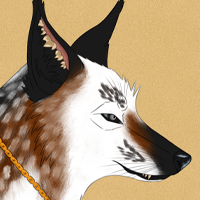 Basic Info
---
Pronounced

Fee-lee-on Vull-tuh-ree

Anatomy

Feral | North American red fox.
Profile
---
Genetics: Rusty and silver, whitemark, piebald, mouth in ear mutation, extra fang on right side, faded down arrow marking, silver eyes, curly tail tip, and soft silky fur with longer parts.
Other info: Unknown

First appearance: Not yet. | Last: N/A
Status: Unknown
Age: Adult / Unknown years
Born: 15 March
Interested in: Dyre | Heterosexual


Family ties


Mother: Unknown
Father: Unknown
Siblings: Valtivar, Namur, Bauch
Love: Unknown
Offspring: Unknown

District: Unknown
Role: Unknown


About
To be revealed.