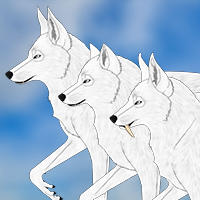 Kynosae (Species: Vledax)
Basic Info
---
Scientific name

Kyno vledaxii (lignum / glacies)

Status

Critically endangered (lignum, glacies)

Interested in

Mainly vledaxes and dyres.

Lifespan

80 years (natural)

Temporal range

Unknown - Holocene

First appearance

Not yet.
Profile
---
The vledax is a gray wolf-sized, diurnal, omnivore, and highly social primeval. They're primarily known for their quad-biped ability, their humanoid looks, and their human-like behavior. They're a sapient species that's a rare sight and mostly forgotten.

All the subspecies of gray wolves, for example, make them canis lupus no matter if Arctic, Mexican, North American, Eurasian, etc. The vledax has two subspecies:
• Timber vledax - The most common vledax on the globe and the representative of the species. Commonly known as kyno vledaxii lignum, they can be found in nearly any biomes, from mountains to wetlands, to grasslands and forests.
• Ice vledax - Commonly known as kyno vledaxii glacies, they're characterized by thicker fur, pale coats, and stockier bodies. They can only be found in the Arctic, Antarctica, taigas, and extremely cold regions.


Averages
Shoulder height, bipedal: 150 cm
Shoulder height, quadrupedal: 80 cm
Length without tail, quadrupedal: 80 cm - 120 cm
Tail length: 70 cm - 110 cm
Weight: 60 kg - 90 kg
Top speed: 52 km/h
Coat: Short to medium
Temperature tolerance: -30°c to 50°c
Diet: Omnivore
Cyclicity: Diurnal

More...