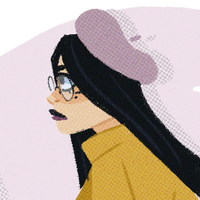 Profile
---
CORINNE
Student council member, head of the photography club, and a highly participatory student in class, Corinne strives to be and do all that she can in school. Any adult looking at her can tell this kid is a ball of anxiety so tightly compacted that an implosion seems nearly inevitable.
But she does have interests outside of school, ones that at times threaten to pull her focus away entirely -- she firmly, adamantly believes in the supernatural. And she is bent on chasing down every instance of it in her hometown that she can through late nights, breaking and entering, and invading others' privacy if need be.
Corinne currently runs a blog called The Hollow Chronicle, where whisperings of strange things happening to townspeople and fellow students are fastidiously catalogued.
I've Read About This Sort Of Thing:
Roll +Sharp instead of +Cool when you act under pressure.
Connect the Dots:
At the beginning of each mystery, if you look for the wider patterns that current events might be part of, roll +Sharp. On a 10+ hold 3, and on a 7-9 hold 1.