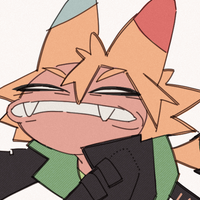 Profile
---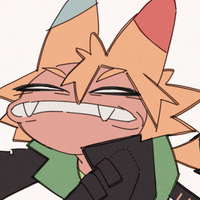 leone
impulsive . reckless . determined
Leone
---
he / they
---
adult
---
fox / human
---
pretty tall
---
professional dumbass
Always ready for action, Leone tends to throw himself headfirst into messes without thought; act first, ask questions later. Unfortunately for him he often winds up the accused culprit of Tomatsu's shenanigans.

---
 Come on, let's get something to eat already! 
---
food [fries and pizza]
trading cards
video games
getting blamed for Tomatsu's shit
summer weather
spiders
Leone is a little stubborn and too determined for his own good at times, though more often than not his heart is in the right place. He plays video games regularly with Tomatsu and considers himself a professional gamer despite being relatively bad at them.

Misc
Leone can shapeshift into a small blonde fox, but he opts not to most of the time.
His pale blue and red markings and eyes can glow.
His boots can adhere to any surface, giving him the ability to run up walls is he really wants.
---
---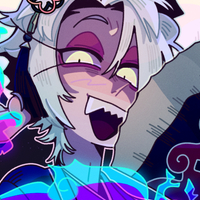 How do I keep getting blamed for your messes?