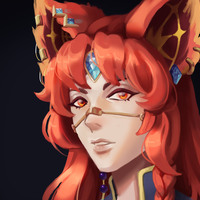 Profile
---
About
Lucien Cygnus Deneb
 
Luc or Lucien for his closest friends,
 is a very reserved and quiet cheruby. You normally can found him in a
library or astronomical institution studying in a secluded area.

Lucien loves the stars
When he could walk in the skies his favorite hobbie was flying among
constellations, he can name every star in the sky no matter how distant it is.
His most beloved possetions are his equatorium and telescope and a close second
are his collection of constallations maps.

He mostly uses his knowledge in stars for his alchemy,
calculating the perfect time for harvest ingredients or brewing potions
But for his passion he fell from grace
Days admiring the stars became weeks, then months, then years. Every day Lucien
wished to be among them, dancing in the sky without any heavenly obligations like him.
Nights reading scrolls only revealed to him that his dream could never be achivied,
no cheruby had ever becomed a star, no god had the will to free a cheruby in their control
and with the bridle in his head, he could not wear light like a star.

"If I can't be in the sky, I will take a piece of it for me" he said
And for his last act in Nirvana he ate a star

 His punishment was to be beheaded, but for him, this was only a small price for his freedom
Stardust runs through his veins 

When he woked in his new home, the mortal realm,
 the light in him manifested by coloring his hairs and wings. 
Because his bright colors and reborn by stardust,
 he is commonly named as Phoenix by other cheruby.
Trivia
His favorite type of tea is Rose tea.
The name of the star Lucian ate is Deneb.
He doesn't handles sunlight very well.
Although he likes to use his exotic clothes,Lucian have a more urban wardrobe too .
If I can't be in the sky, I will take a piece of it for me