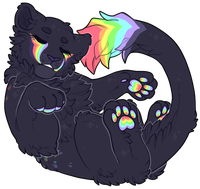 Profile
---
---
orientation
Homomantic (Gay) Demisexual
species
Panther x Cheetah
special powers
Extreme Speed, Rainbow Trail
---
status
[Active] Secondary Sona
Intolerant • Cold • Distant
Despite his cheerful, colourful markings he's quite the introvert and doesn't show many emotions. Some would describe him as anti-social and even unapproachable, closed off from others.
It's hard to really measure this as he is quick to leave you with just his rainbow trail if he feels like it. He's not bad though; he's just picky with who he spends his time with.
---
Likes
plushies
oversized shirts
fake flowers
Dislikes
crowds
loud noises
showers
---
---
Design Notes
Rainbow Freckles can be random and have more further down his body.
The Rainbows can be in either direction but I PERFER the direction in his refs.
Please keep in mind his rainbow wiskers and tounge.