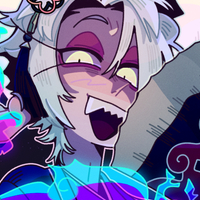 Profile
---
Nightwander: Stargazer

Tomatsu wanders the deep forests at night, enjoying the fireflies and soft croaking of frogs from the nearby ponds. He spends most of his time there when he isn't visiting Leone in the vibrant city.

Not What He Seems: Friend or Foe

There are rumours that he can shape-shift into a pale fox, though this is speculative. He won't confirm or deny this.
Abilities
He has the ability to conjure purple flame with his hands, though it does not burn. His flame does not produce heat and is eerily cool to the touch to all. 
---
Trivia
He's largely relaxed and confident, though is insulted when treated like a princess.

While he spends much of his time in nature, he enjoys playing video games with Leone.