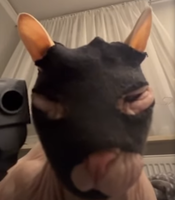 Art requests n gift arts OPEN
Profile
---
Sometimes when im bored or sad i like to draw random characters, so if you have interesting oc this place is for you.
My to-do list can be found here: https://trello.com/b/uk00nwaN/to-do-list
- Any species
- Humans have less chance to get an art.
- i might draw your character few times if i like it.
- no clean ref, messy, sketchy art at the point i cannot see what species they are, have almost 0 chances of getting an art.
- no brand based characters - if ur character is based on pikachu, deku or any other character, then im not gonna draw it. (im not thalking about race/species, just the design/markings etc.)
- I do not guarantee that I will draw your character, that you will get full art with background. I do it completely for fun and i like to have free hand. if you have any requirements, drawing limits etc. don't comment please.
art examples you can find there: https://toyhou.se/15081999.commission-prices-n-examples/gallery
you don't have to fav, like, share or anything like that. just leave a comment with link to the character... or characters bc yes you can post more than one