Profile
---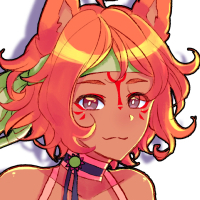 Momiji
Personality
Momiji is peppy and playful, and has strong sisterly vibes.
Background
Like many yokai, Momiji was once human, but died and was reborn as a fox spirit. However, she has no memory of her previous life. She doesn't care much about remembering it, though, and prefers spending her days playing with her "siblings", willfully ignorant of her past.
Design Notes
Base colors
Outfit colors
She has four tails.
The tips of her ears are black.
Trivia
She has white pupils.
Her four tails show that she has lived at least 500 years, but not yet 600.
She is one of the oldest in her fox family.
credit
(Code heavily edited by me)