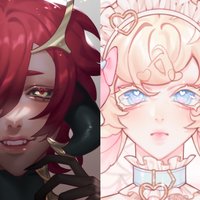 Profile
---
commissions closed
---
favourite this character to be pinged for the next opening!
next opening is in ~3 months
regular comm slots
1. taken
2. taken
3. taken message
ILLUSTRATIONS
headshot - $60+
---
halfbody - $100+
---
fullbody - $140+
---
(cheaper options of this style are available) add-ons: ask
CUSTOMS
front view + alt - $210+
---
front + backview - $300+
---
full ref sheet - ask
---
add-ons: ask
---
HOW TO ORDER
Send me a DM with the form provided. (Form is optional for sketches, only character references + type are required).
Send payment after your request has been accepted.
Payment 100% upfront, USD PayPal only.
Turnaround time for sketches is 1-10 days. Turnaround for regular comms is 1-4 months.
Refunds are not possible after a sketch has been sent.
If you have any questions or would like to be added to the pinglist, please comment below!
will do
---
see full information link

info

info

info

info
username:
type:
character:
expression/pose:
details:
paypal: