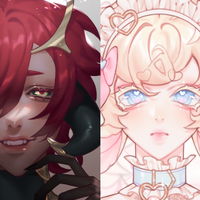 Profile
---
commissions closed
---
Commissions will be completed in December-January
dm to claim a slot, sketches will be sent out 1 week after payment
slots (first come first serve)
1. taken
2. taken
3. taken
INK
headshot - $40
---
halfbody - $70
---
fullbody - $90
---
add-ons: frame +$10 background +$20-$100 extra character +100%
ILLUSTRATIONS
headshot - $70+
---
halfbody - $110+
---
fullbody - $150+
---
(cheaper options available) add-ons: background +$50-$100 extra character +100%
CUSTOMS
front view + alt - $210+
---
front + backview - $310+
---
full ref sheet - ask
---
add-ons: ask
MISC.
sketch page (2 concepts + headshot) - $75
---
ink custom - $150+
---
add-ons: ask
---
HOW TO ORDER
Send me a DM with the form provided.
Send payment after your request has been accepted.
Payment 100% upfront, USD PayPal only.
Turnaround time for sketches is 1-10 days. Turnaround for regular comms is 1-4 months.
Refunds are not possible after a sketch has been sent.
If you have any questions or would like to reserve slots for the future, please comment below!
will do
---
Humans/Humanoid

Gore

Couples (LGBT+, Het)

NSFW (18+)

Ask
won't do
---
Anthro/Feral

Fetishes

Bestiality/Incest

Underage NSFW

NFTs/Crypto/AI

username:
type:
character:
expression/pose:
details:
paypal:
message