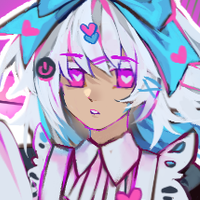 Profile
---
---
" (๑✪ᆺ✪๑)"
---
"History"
---
In a time where the world is filled with strife and violence, Beatrice is no stranger to either. In the city, life is more of the same, but why waste your days ruminating on the bad when life is full of pleasures? There can be beauty and form in everything—even street fighting! Kick ass and claim what's yours… with a bit of class, of course. And you can't forget to treat yourself afterwards.
Aspiring artist and enjoyer of many a dating sim, Beatrice spends much of her time drawing and reading. Although whether or not she's actually any good at drawing tends to vary to extremes depending on who you ask… Together with her best friend Priscilla, she dreams of making a dating game filled with violence, action, and romance the likes of which the world has yet to see...
Beatrice is not particularly picky in terms of reading, sticking firmly to her belief in "beauty in all things" mantra. No matter how crass, Beatrice will insist upon elegance and form existing in all things in their own way. Is there not beauty in death? Is there not poetry in smashing glass bottles over the heads of others in the bar? Is there not charm in a cute young lady dragging a dripping body bag down an alleyway? Yes. There is.
"Personality"
---
Although Beatrice tries to lean into a cool and collected princess-like persona, she is easy to provoke (for better or worse). Overzealous and passionate, she will not hesitate to jump right into the excitement (or fights…). A beautiful princess type with a killer edge, she's the type of woman who would have no problems smashing your skull in during tea time and then return right back to drink. As long as she looks cool or cute doing it, who cares about consequences?
Despite her generally cool nature, Beatrice also tends to be quite blunt, overexcitable, and vulgar… particularly when talking about her dating sims or newest favorite fictional girl.
Despite everything, Beatrice is kind hearted at her core, and her passion and excitement are her main driving force. She wouldn't hesitate to help a friend in need or give an enemy her regards. After all, tomorrow is a new day.

---
"Notes"
---
When out on the town on an "adventure," Beatrice uses the name "Sweet Punch." Most people who have ever been in a fight with her on the street know her by the name. She also uses this as her artist pseudonym.
Proficient with firearms. Small guns are her weapon of choice.
Wears the maid dress simply she thinks it's cute. Maybe because she's a little too into anime or something. Who knows? Main point: Cute.
Hobbies
Drawing
Reading [Comic books, fanfic, ...trash]
Playing dating sims
Window shopping
Likes
Tea parties
Cute dresses
Visual novels
Bread
Princesses!!
Dislikes
Paid DLC in her dating games
Bossy people/being bossed around
Children
---
Priscilla and Beatrice met as young teenagers. They went to buy the only volume left on the shelf of the same dating sim. The two girls proceeded to have a loud argument in the store, which quickly changed from being about buying the game… to just being a heated and passionate discussion about the game itself.
Too zealous to get under control, the girls had to be thrown out of the store. They continued to talk and hung out for the rest of the day—bonding over their favorite things and similar energies. The two have been best friends ever since, and with Priscilla's writing and Beatrice's art, they dream of one day making their own dating games together.