Profile
---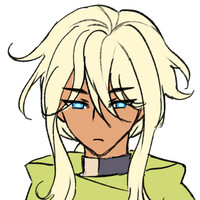 Yed Silvermann
Affiliation
Hunters (prior)
Personality
Yed as always been the skeptical kind, never feeling fully convinced by the cause his clan was supposed to serve.
After falling, his personality didn't change that much, although he is now more aggressive and outspoken. He has also become a bit of a pervert, although his "impure" thoughts seem to exclusively target Alco, to the demon's utter dismay.
Background
Like all Silvermann children, Yed was brought pretty young into the world of demon hunting, and was taught to have no mercy on demons. However, due to his skeptical nature, he never really believed in the cause. The doubts already present in his mind left him more vulnerable to the influence of demons, and inevitably ended in him being possessed by one of his marks : Alco.
After (almost gleefully) falling under Alco's influence, he deserted the Silvermanns and demon hunters in general, and let the demon corrupt his demon-hunting dagger into becoming a demonic dagger.
He is constantly on the run, trying to avoid hunters now that he is being a host to a demon, constantly carrying Alco's plushie form when awake and seeing him in his dreams when asleep.
Design Notes
Base colors
Outfit colors
Like all pseudo-humans, Yed has glowing eyes with no pupils.
Trivia
He used to wield a demon-hunting dagger, but it became a demonic dagger after being corrupted.
He is actually pretty happy with his arrangement with Alco.
credit
(Code heavily edited by me)