Profile
---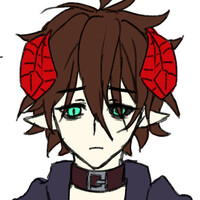 Alco
Age
Centuries, stopped counting
Personality
Alco is pretty nervous in nature, but is trying his best to seem intimidating to mortals...with varying levels of success.
He is terrified of stronger demons, and generally distrustful of those on his level or weaker.
Background
Alco is your run-of-the-mill underling demon, in other words : weak. Most of his life was spent serving more powerful demons in the demon world until the Great Corruption happened on Earth, and he took advantage of the confusion in both worlds to flee to Earth.
However, due to his weak powers, he wasn't able to fully manifest and had to make do with a smaller, more inconspicuous appearance of a tattered bunny plushie. It was by pure chance that he was able to get demon hunter Yed's attention and attach himself to his soul through the plushie, essentially possessing him with little resistance.
In order to secure his hold onto Yed's mind, he then started to "haunt" his dreams in order to corrupt him, a specialty of his, but was quite bamboozled by Yed's enthusiastic reaction. Never one to let an opportunity to waste, Alco decided he might as well start feeding off of Yed's lust.
Design Notes
Base colors
Outfit colors
Plushie colors
Right arm and left arm are pitch black, separated from the rest of his skin by metal bands.
Left sclera is black, and left pupil is bigger.
Trivia
Extremely good at manipulating dreams.
He can only manifest his full form in dreams, and otherwise stays in plushie form in the real world.
Like all demons, he is intersex.
credit
(Code heavily edited by me)