Profile
---
Basics
About
No one ever told Chalk that the more he acted like Uchiha Sasuke, the more unbearable he'd become.
Being stuck on the one planet that had shitty enough anime to keep him occupied, Chalk grew up idolizing the wrong kind of characters. The standoffish loner types always stood out to him, and he thought that they were just the absolute coolest characters in the world, and made up his mind to start acting like them so that he could be cool, too. Unfortunately, this was the stupidest idea anyone's ever had, and it only made people avoid Chalk like the plague, if they weren't making fun of him. As a result, Chalk grew up feeling extremely isolated, and never really figured out how to make friends. He comes off as very bitter and rude, and that's generally because he is. He doesn't know how to regulate his feelings, especially since some of the reasoning falls on his own shoulders, and he's not ready to deal with that yet.
After getting a shitty minimum-wage job, Chalk saved up and got himself a cheap gaming PC to help him pass the time while he was stuck at home being lonely. Over time, he grew to make connections with the folks he played with in a few of the games. He joined a few Discord servers, chatting a little here and there. It made him feel less lonely when he could talk to others, even if they were far away.
His new friends encouraged him to start streaming, since he was a natural at helping new players in the games they played together. It started out slow, but Chalk eventually began gaining a following, using the handle CrescentRoyal. The money Chalk began earning from streaming was more than he was making at his regular job, so he quit that on the spot, and moved to streaming full time.
He's still awkward around new people, and occasionally has outbursts on stream when he gets frustrated and doesn't know how to contain himself, but just by keeping himself surrounded with his friends, no matter how far they are, he doesn't feel like things are so bad anymore.
Character
Enneagram
Type 8 - The Challenger
---
Alignment
Chaotic Neutral
---
Preferences
Likes
Battle royale games, Minecraft, board games
Hot pot; if you want him out of the house, this is how
All that shitty nightcore from the 2000's
Dislikes
Too much sunlight; it burns his skin
Traveling; he prefers to stay in one spot
Sore losers; the worst kinds of people
Trivia
Bell can be removed from collar, but please don't.
Only wears cool white clothes; silver metal is okay!
Moon mark and halo glow!
Has silver blood; blushes deep grey
Aesthetic
Playlist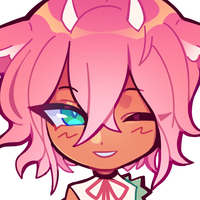 Beste Fronde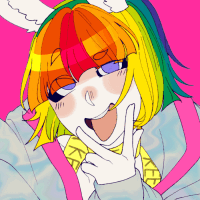 Idk why they're friends tbh Chalk has no friends