Profile
---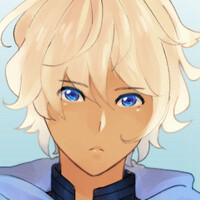 Nahki
Personality
Nahki is a polite young man who, while staying cordial, doesn't trust easily. He prefers to keep his distance from people, emotionally speaking.
Background
Orphaned at a young age due to a war between his village and a neighboring one, Nahki fled with his sister, Vas'kha, when he was just 7 years old, and was later taken in by the half-elf Hamael in exchange for his sister's labor. When he grew older, he decided to work at the clinic as well, to pay back both his sister and Hamael for their help and protection.
Unlike most people, who would take it as a blessing, Nahki was pretty displeased when he learned that Vas'kha had been chosen as Memoria's vessel, believing that the gods wanted to take away his family again.
Design Notes
Base colors
Outfit colors
Trivia
He posseses a strange, rusted metal cube that he keeps on his person at all times.
credit
(Code heavily edited by me)