Profile
---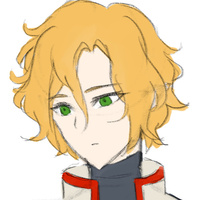 Eï
Personality
Eï is an earnest young man who wishes to discover the world and make new memories to replace the ones he lost.
Due to his lack of memories, he sometimes feels lost.
Background
Found by Hamael at the edge of the forest where Elves generally dwell, wounded and without memories, Eï was taken to her clinic for healing. Most of his wounds were healed, with the exception of burn scars that were seemingly already present on his body for years. In order to help him forge his personality anew, Hamael asked Vas'kha to bring him on her travels.
Because of a severe case of retrograde amnesia, he has no knowledge of his past, origins, or even his name. The name "Eï" was given to him by Hamael.
Design Notes
Base colors
Outfit colors
Burn marks on his left shoulder and all over his left arm.
Trivia
He has the ability to sense and communicate with souls of the dead, though he doesn't realize immediately that's what they are.
credit
(Code heavily edited by me)