Profile
---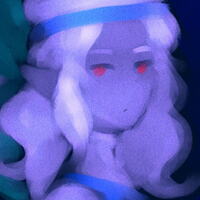 Hamael
Personality
Hamael is a serious woman who is dedicated to her job as a healer. Although generally cold, she always knows what to say to reassure her patients and shows a great understanding of people's feelings.
Background
Born of an elf mother and human father, Hamael grew up in the forest among a small community of elves. Although she never mentioned her reasons for leaving the community, it is likely that she felt like she didn't belong, as one of the only two half-elves in the entire village.
She runs her own clinic at the very center of her region, and will heal anyone who needs it, regardless of affiliations. Her clinic is considered neutral grounds, and any fighting there is absolutely forbidden. Most of her employees and assistants are hybrid orphans who she took in in exchange for their labor.
Design Notes
Base colors
Outfit colors
credit
(Code heavily edited by me)