Profile
---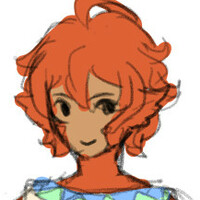 Etsu
Age
6 (about 18 human years)
Personality
Etsu is a lively young Tsu who is very excited to discover the outside world. Although she is barely an adult in Tsu terms, she has a certain wisdom to her, and has a great sense of responsibility. She is also very much aware of her mortality, particularly of the fact that Tsu live very short lives.
Background
Like every vessel of Vilirh, Etsu is called "Etsu", meaning "Child of Tsu", to honor the patron goddess of the Tsu : Tsuhiri. As the vessel, she has the responsibility to look after her people and preserve their culture.
Due to strange events on her island, Etsu decided to leave and look for the vessel of Merthel who, she assures, can help with their problem. She never mentions what that problem actually is, though.
Design Notes
Base colors
Outfit colors
Fur on her cheeks, neck, shoulders, back, hands, and feet.
Slit pupils.
Trivia
Etsu has a keen sense of smell, so much that she can tell someone's health and life expectancy just from a whiff.
She has vague memories of her lives as the previous "Etsu".
As a Tsu, Etsu has a very short life expectancy, but grows physically and mentally quicker as a result. One Tsu year would equal about three human years.
Like all other Tsu, Etsu has both male and female sexual characteristics.
credit
(Code heavily edited by me)