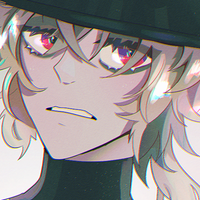 Profile
---
Iraido
Please, do you mind?
Blunt, calm, and speaking with a voice that holds little to no inflection, Iraido is an enthusiast of swords, skulls, and vintage gold trinkets. He was once an ordinary human, though now holds uncertain demonic powers.
A Curse: Though Not Burdened

Iraido's right arm is often enveloped in black smoke and wraps. An encounter with a possessed relic had him face-to-face with a demon. A narrow escape spared him from having his body seized by the greedy beast. Instead he emerged largely unscathed, save for a few unusual abilities left behind by the demon.
Eyes on the Prize: I Like What I Like

Iraido's interests lie in weapons and relics. He has a small growing hoard of these items.
Needs Work
Despite having obtained some abilities of a demon, Iraido finds himself struggling to control or summon them at his will.
---
Trivia
Iraido has two long black horns. They phase through his hat, appearing to be part of the garment.