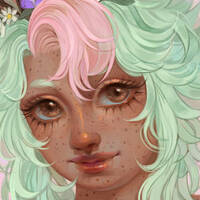 Profile
---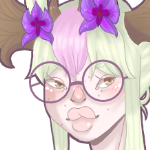 Minty
---
"Hey! I'm not sweet or spicy.

...just minty."
BASICS
---
NAME : Minty Babbitt
NICKNAMES : Minni
AGE : April 18th, 1995
GENDER : Female
ORIENTATION : Heterosexual
OCCUPATION : Animal Rescue
SPECIES : Jackalope/Human
RACE : African-American/Korean
HEIGHT : 5' 4" (162 cm)
WEIGHT : 134 lb (61 kg)


ABOUT
---
 Being raised by a sassy African-American woman, Minty's personality developed her to stay strong. She always remains true to herself, valuing doing the right thing with an extremely kind soul. Finding an injured bunny outside her apartment complex, she rushed it inside and nursed it back to health. Naming it Chubble, the male bunny remained with her as a pet.
 Minty was inspired by playing a part in saving an animal's life, she began to volunteer for small companies that created animal rescue initiatives. Her experiences lead her to a job at her local animal center with her supportive friend Zianthe. Allowing animals to experience caring interactions from humans strengthens her motivation in animal rehabilitation.
 With her free time, Minty enjoys creating art with painting and baking. Her paintings are typically abstract or portraits. Typically cakes and tarts, the baked goods are shared with friends and her sassy mom. With ironic properties, Minty refuses to cook anything with mint, as she has extreme sensitivity to it, even refusing pieces of gum.
LIKES
---
• Pastels
• Animals
• Baked Goods
DISLIKES
---
• Mints
• Height
• "JUICY" Sweatpants
INTERESTS
---
• Reading
• Mythology
• Visual Arts
APPEARANCE
---
 Minty at 134 pounds, stands at five feet, four inches. Landing below average height and having a more chubbier build. Appearing to be a human mixed with a jackalope, her large antlers make up her missing height. They range in height during seasons, as she trims them- avoiding overgrowth. Her ears are typically perked up, but are pliable enough to allow her to wear sun hats in the summer time. Her hair is a light mint color with a pink patch for her bangs. Freckles cover her skin, prominent over her button nose, chipmunk cheeks, and shoulders. Minty's brown eyes are framed by large circular lensed glasses, fixing her horrible vision. Her full set of lips hides if she has large front teeth or not to resemble her jackalope genetics.
  She typically wears strapless and shoulderless tops such as bandeaus or tube tops in the summer with a pair of shorts. In the winter, she typically wears oversized cowl sweaters and warm leggings. She has a large wardrobe, and switches her typical style commonly, however.
RELATIONSHIPS
---
Rilenan
boyfriend
Zianthe
best friend
Adonis
friend
Rudi
friend
?????
n/a